31 March 2012
North Forest ISD will stay open for another year
the Texas Education Commissioner said North Forest is being given another year to try to improve its status.
Because after years of promising to improve (and failing), district officials now have a winning plan?
Posted by Anne Linehan @ 03/31/12 07:44 PM |
---
24 March 2012
An expensive repository of crumpled Astroturf and trash
A Swamplot reader recently took a detour while at the Rodeo and ventured into the Astrodome. Follow the link to see the pics.
Posted by Anne Linehan @ 03/24/12 10:18 AM |
---
21 March 2012
Bazan: Revenue Reality vs Consultants on the Hilton Americas
Tom Bazan passes along this interesting chart he put together detailing the projections made by one of the city's favorite consultants to justify its deep involvement in the convention center hotel versus actual revenue performance over time: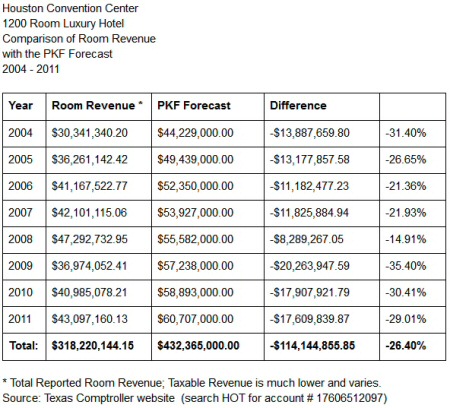 Since the City of Houston is considering a number of initiatives ranging from yet another convention center hotel to Hobby Airport expansion to accommodate international travel (even though Houston has a designated international gateway with an expansion plan), we thought it would be a useful reminder that sometimes the consultants picked by the city to "analyze" these issues tend to come up with the answers that city officials already wanted to hear (and that these don't always conform with reality).
Posted by Kevin Whited @ 03/21/12 10:20 PM |
---
20 March 2012
How to skirt Mayor Parker's proposed "charitable food service ordinance"
While Mayor Parker wants to criminalize giving food to the needy, she is moving to de-criminalize tailgating at Houston sports venues:
Houston's mayor and city council will consider amending city ordinances to essentially allow tailgating outside downtown sports venues.

The curious legal problem traces back to a broadly worded section of the city's code of ordinances. With broad, but very specified exceptions, it basically bans public drinking in downtown Houston.
The obvious solution for local charities that feed those in need is to move to Houston sports stadiums and call themselves tailgaters. Problem solved.
Posted by Anne Linehan @ 03/20/12 04:55 PM |
---
19 March 2012
News and views roundup (19 March 2012 edition)
The last week or so sort of got away from us, so here's a quick link post to catch up:
Housing authority paid thousands to employees' friends, relatives, records show - Mike Morris and Susan Carroll, Houston Chronicle


Harris County Housing Authority executives have doled out hundreds of thousands of dollars in federal taxpayer money to the friends and relatives of employees without formal contracts or board approval, the agency's financial records show.

Some of the authority's handshake deals extended to convicted criminals with dubious qualifications for the jobs they were paid to perform - including working on complex, multimillion-dollar federal housing programs, according to an examination of the agency's records and background checks on people paid during the past five years.

The authority cut checks to the spouses, siblings, children and other family members of several employees in recent years, paying some of them through subcontractors, public records and interviews with their relatives show.


That certainly sounds like The Houston Way!
International flights out of Hobby? - Miya Shay, KTRK-13 News


Former Continental Airlines CEO Gordon Bethune says he and past Houston mayors developed IAH specifically as the city's international gateway, and it's a key reason for Houston's economic success to date.

"It's going to pop an economic balloon, which has been Houston's economic growth," he said. "It's going to split a big city -- six million people -- into two small cities. So we're going to have transportation like Austin."


So far as we can tell, Miya Shay beat everyone on this story last Friday.

Perhaps a commenter can convince me otherwise, but it strikes me that the decades-long designation of IAH as Houston's international gateway and HOU as a domestic airport has served the area well. Southwest chose not to compete out of IAH years back (and Continental decided the same out of Hobby). If Southwest really wants to fly international, then they ought to head back to Houston's international airport, shouldn't they?

Emmett staffer fired after misusing funds - Mike Morris, Houston Politics/Chron.com


A staff member for Harris County Judge Ed Emmett has been fired, accused of using money from a private nonprofit corporation for his personal use.

Kirk A. Boudreaux, 49, has taken money from the corporation, formed by the judge, since 2008, Emmett said. Boudreaux has repaid some of the money but currently owes more than $40,000, Emmett said.

Emmett hired Boudreaux in late 2007 to serve as budget and finance adviser at an annual salary of about $90,000. He also served as volunteer treasurer of HC Events Inc., a nonprofit registered to Emmett's office that collects donations, sponsorships and registration fees for Emmett's annual Trade & Transportation Conference. The event this year was held Jan. 31.

Emmett called the news "sickening" and "completely shocking," and stressed that only the nonprofit's revenues, not county tax dollars, were misused.

That, and another associate's (alleged) boorish behavior, almost certainly will detract from the county judge's efforts to push his ethics agenda.

Homeless Hotspots: Worst, or best idea ever? - SciGuy/Chron.com


[This] rubs me the wrong way. Jon Mitchell, at ReadWriteWeb, articulates some of the reasons. It has to do with digital divides, haves and have nots, and the idea that a fellow human being is of no more use to you than as an Internet jack.


Hmm, closer to home -- we wonder how Berger feels about the Chronicle's longtime treatment of similarly situated fellow human beings as newspaper vending machines (placed on the road, among dangerous moving traffic)?
Please discuss!
Posted by Kevin Whited @ 03/19/12 09:19 PM |
---
11 March 2012
KTRK: Housing Authority under scrutiny over truck, checks
The county attorney looked into all of it and decided in the letter that nothing was illegal, but said it probably wasn't the best way to handle this.

[snip]

By the way, there is no sign that any policy has changed at the Housing Authority since all this happened.
Democratic County Attorney Vince Ryan seems frequently to be of the mind that "there's nothing to see here," despite anointing himself the public's watchdog and talking a good game when it comes to ethics.
Posted by Kevin Whited @ 03/11/12 09:45 PM |
---
08 March 2012
New adventures in Houston trinket government, March 2012 edition
Mayor Parker and Comcast SportsNet Houston Announce Major Local Sports Media Investment - Office of Mayor Annise Parker
Houston Mayor Annise Parker and Comcast SportsNet Houston, a partnership between the Rockets, Astros and the NBC Sports Group, today announced that Comcast SportsNet Houston will make a significant local investment to build a multi-million dollar state-of-the-art studio and production facility, creating 125 new jobs. This investment is facilitated in part by Houston's Market Square Tax Increment Reinvestment Zone (TIRZ) #3.

[snip]

In addition to the local jobs that will be created, the city of Houston, the state, local charities, businesses and schools will all benefit. The Market Square TIRZ contribution will be more than offset by spending at nearby stores and restaurants by tourists and local residents who come downtown to watch the live broadcasts from a street level viewing area, similar to that utilized for NBC's Today Show at Rockefeller Center in New York.
They seriously expect people to believe that crowds will be drawn to watch live broadcasts related to two middling local sports teams at a taxpayer-subsidized Pavilions facility that was promoted as yet the latest greatest way to boost downtown (
rah
RAH
!), but that never really enjoyed the promised success in terms of traffic or tenants?
If you believe that, I think there are some folks in Montgomery County who would be happy to sell you some shares in their epic dinosaur amusement park that is going to rival Disney's attractions. Rah RAH!
$16,000 Per Employee - Cory Crow, No Upgrades
That's the expense rate that NBC is seeking to open up their new play-pen in the (struggling) Houston Pavilions downtown development.
As noted many times before, World-Classness doesn't come cheap!
It's full speed ahead for new convention center hotel and it's going to be Texas big - Ralph Bivins, CultureMap
Houston First — called a "local-government corporation" created by government officials — would not own the project, but might participate by assisting with tax rebates or other assistance.
Bad development ideas never die - Cory Crow, No Upgrades
The convention battle is over, resort destinations have won. Cities that still try to chase the white dragon of large convention business are only fooling themselves, bankrupting the treasury and enriching the middle-men who facilitate these types of deals.

In other words: The Houston Way.
City report says tax increase, outsourcing of EMS should be studied - Chris Moran, Houston Politics/Chron.com
The city should consider studying the impact of raising property taxes ... City Finance Director Kelly Dowe suggested to the Council's Budget and Fiscal Affairs Committee on Tuesday morning.
There are any number of mechanisms by which Mayor Parker seems to be able to funnel money to favored interests (the Pavilions sports TV studio, a second convention center hotel of dubious necessity, engineering and construction firms that lobbied/lied for the rain tax to name a few), but average citizens who pay for water, who have businesses that require permits (which require fees), who pay property taxes -- well, as so many liberals like to say, get ready to "pay YOUR fair share" (no set number, but definitely MORE).
A Wichita shocker: You can beat city hall - Wall Street Journal
Local politicians like to get in bed with local business, and taxpayers are usually the losers. So three cheers for a voter revolt in Wichita, Kansas last week that shows such sweetheart deals can be defeated.

In late 2011 the Wichita city council passed (six votes to one) a bill exempting the new Ambassador Hotel, owned by real-estate developers, from 75% of the city hotel tax, on top of at least $10 million in other subsidies. The measure was sold in the name of jobs and urban redevelopment, and the local power brokers were all for it: the Chamber of Commerce, the political class, the city newspaper. All the skids were greased and, truth be told, hotel taxes are too high in Wichita, while the money at stake, $2.25 million over 15 years, was small.

But voters were so enraged by the insider dealing that they launched a petition drive for a voter referendum. Despite hundreds of thousands of dollars spent by hotel advocates, almost 10 times more than opponents spent, voters routed the subsidy 61% to 39%.

The elites are stunned, but they shouldn't be. The core issue is fairness.
Wichita sounds a lot like Houston! Well, except for the voter rebellion part. Although, Mayor Parker's narrow avoidance of a runoff last year against trivial candidates could be a warning sign.
Posted by Kevin Whited @ 03/08/12 09:56 PM |
---
Legendary former DA Holmes endorses Mike Anderson
Tom Kirkendall calls our attention to the following video put out by Mike Anderson, who is running against incumbent Harris County DA Pat Lykos in the Republican primary. We knew from the Big Jolly interview a few weeks ago that Johnny Holmes was supporting Anderson, but we had not seen this subsequent video:
Once upon a time, this endorsement would have been a pretty big deal. Will it have much impact today?
Posted by Kevin Whited @ 03/08/12 08:42 PM |
---
07 March 2012
Houston establishment newspapers cheer on dinosaur park; local newspaper exposes boondoggle
Second dino-park in Jasper sunk by savvy officials - Cynthia Calvert, The Tribune
On Nov. 9, 2006, the Houston Business Journal reported that Don Lessem, "a Philadelphia entrepreneur and nationally recognized dinosaur expert, [had] chosen southeast Montgomery County as the site of a proposed large scale tourist attraction."

According to Lessem, "Southeast Montgomery County edged out the other finalist, [the City of] Red Oak (a Dallas suburb)." He further stated that civic leaders in the New Caney area, "[were] a more aggressive and accomplished group, [with] a personal sense of commitment."

From that moment on, the excitement and anticipation of a major, Disney-caliber resort grew to a fever pitch.

Time and again, local politicians and civic leaders repeated the mantra that New Caney and southeast Montgomery County had been selected over all other regions in America, news that was almost too good to be true. In particular, the board of directors of the East Montgomery County Improvement District (EMCID) took the lead in promoting, and funding, the dream that all rural counties and municipalities long to embrace. In fact, EMCID incurred liabilities in excess of $21 million to ensure that thedream would become reality.
Despite that bit of cheerleading from a Houston business publication (and others), no Disney-like dinosaur park was ever built, despite millions of taxpayer dollars going... somewhere, in the pursuit of the great world-class dinosaur park boondoggle.
Be sure to click over and read the entire story, which is unsettling to say the least (and a good job of investigative reporting by the local newspaper).
And then click over and read this one:
EarthQuest fees mount - Cynthia Calvert, The Tribune
[T]he financial picture related here can only be considered a partial view of EMCID expenditures. The Tribune does have the cash flow statements for 2006-2011, American Express monthly statements for McCrady and office aide Suzanne Parmer from 2007-2011, detailed mileage reimbursement forms for Parmer, and EMCID employees Sandy Seelye, Warren Mather and Tom Lewis.

The Tribune looked at one year, 2009, for this article.

In 2009, McCrady's and Parmer's American Express bills together totaled $227,000, just a few thousand dollars shy of the entire amount of money funded by EMCID for college scholarships for every graduating senior in the district.
Several people seem to have made out very well on the great world-class dinosaur park that never was going to be. Heck, we'd be hard pressed to argue that Frank "Procurement Disaster" Wilson made out better than some of these fraudsters!
As Cynthia Calvert asks in the first Tribune article above, "Where were the gatekeepers to the public trust when it was needed most?"
For that matter, where were more skeptical journalists? The Tribune has done a number of recent stories on this topic (see this, and this, and this), none of them very flattering to public officials or the boondoggle purveyors. True to form, the Chronicle was still in cheerleader/press-release-reporting mode just a couple of weeks ago regarding the project. Someone may need to nudge the Houston Business Journal and let them know they need to revisit their past cheerleading (especially this), since we were not able to find any recent updates from them.
Posted by Kevin Whited @ 03/07/12 10:30 PM |
---
06 March 2012
Pro-regulation Parker Administration moves to criminalize charitable food service
Houston's Plan to Criminalize Charity - Marc Levin and Tim Cook, Texas Public Policy Foundation
Houston City Council will be considering an ordinance (see page 32) today which would criminalize the giving of food to the needy without permits or complying with a long list of regulations. The offense for helping others in a way that is not approved by city bureaucrats is a fine of up to $2,000 a day, with each new day of renegade charitable giving classified a separate offense.

The reasoning behind the law seems to have little sense and the enforcement mechanism in place makes even less sense. People and non-profit organizations shouldn't be deterred from helping others due to government red tape. With no requirement of a culpable mental state for conviction (mens rea), those who will most likely suffer are those who had no idea such a statute existed or attempted to comply but made a mistake when trying to follow cumbersome regulations.
About that road paved with good intentions - Cory Crow, No Upgrades
When I first saw this story i thought it was something that came from The Onion.
Indeed.
While Mayor Parker imagines that an anti-gay cabal is responsible for her narrow avoidance of a runoff last fall, we would submit instead that her policy misadventures such as the rain tax (in which she and supporters misled the public about the cost), massive water-rate increases, massive fee increases, and dithering for quite some time on red-light cameras before finally terminating them all contributed to her poor showing. Add the recent effort to overregulate auto mechanics and now this proposal to criminalize charitable feeding of the poor to the list of misadventures.
Posted by Kevin Whited @ 03/06/12 09:31 PM |
---
Management district pushback in The Woodlands
State pursues voter fraud charges against Woodlands residents who registered to motel - Steve Miller, Texas Watchdog
The case of eight Woodlands residents who sought to use a residency loophole in the state's election law to gain representation in a utility district election in 2010 will go before a grand jury on Thursday in Montgomery County as the state pursues criminal voter fraud charges.

The eight, which included retirees, small business owners and trade workers, sought to elect some new members to the board of the Woodlands Road Utility District.

Because they didn't live in the 2,400-acre district, they checked into a Residence Inn that was within its boundaries, claiming residency there. Three of their confederates placed their names on the ballot, and, thanks to the "new" residents, they ousted three incumbents who had fostered the district, which has the power to tax and issue debt.

The incumbents sued, and a judge ruled the votes were invalid, reversing the election. In October 2010, the Montgomery County District Attorney's office submitted information to the state Attorney General's office.
Lesson for limited-government activists everywhere: Never, ever underestimate the extent to which those benefiting from these sorts of management districts will go to protect their sacred cows.
The state legislature really needs to step in and rein in these entities.
Posted by Kevin Whited @ 03/06/12 09:26 PM |
---
Do you care about the mayor's sex partner, or her policies (or both)?
Mayor Parker getting political pushback on gay marriage support - Chris Moran, Houston Chronicle
Emboldened by Parker's poor showing in November in which she barely avoided a runoff and by the victories by two opponents of gay marriage who became the first challengers to unseat City Council incumbents in 12 years, social conservatives have gone on the attack. They accuse Parker of reneging on a campaign promise to put the city first and social issues advocacy second, and they charge her with violating the Texas Constitution by advocating for a change to it.

"What they're saying is, 'We smell blood,'" said Rice University political science professor Bob Stein, whose wife previously served as Parker's agenda director.
Memo to Chron editors and reporters: When you have to include that highlighted disclaimer about someone you are quoting in a story, find someone else to comment. Bob Stein is not the only political scientist (or bicyclist) in the city. Seriously!
Annise Parker, Houston Mayor, On President Obama, Gay Marriage And Being An Out Politician - Michelangelo Signorile, Huffington Post
Houston's openly lesbian Mayor Annise Parker, newly re-elected to a second term, says President Obama needs to evolve "faster" on marriage equality, and that the Democratic platform should promote same-sex marriage. She also slammed a "hard-core group" in Houston -- the largest city in the U.S. with an openly gay mayor -- that is "just mortally offended that there is a lesbian mayor."

Speaking on my SiriusXM radio program, Parker, who was elected to her first term in 2009 and won re-election in November of last year, said she's happy to have won reelection without a runoff against five opponents (getting just over 50 percent of the vote) but that she had to "work harder" than she believes she should have had to in order to win.

"While it's been a tough time to be an incumbent at any level of government, there's definitely a hard-core group here that is just mortally offended that there is a lesbian mayor, and one of my opponents ran specifically because of that issue and raised it at every opportunity," she said.
In my opinion, Parker's narrow avoidance of a runoff while facing a weak field is more reflective of the mayor's two-year governing record than any imagined anti-gay backlash.
I don't much care who's sleeping beside Mayor Parker. But it does seem of late that she seems to want the public to think more about it. So what say you, public?
Posted by Kevin Whited @ 03/06/12 09:23 PM |
---
Somebody must have forgotten the first rule of Houston Journo-List...
The E-Board Treatment - Campos Communications Blog (02/23/2012)
The Roundtable invite yesterday got me laughing. Let me share it with you:

Your gay bar pass has been revoked!

We're pleased to announce that Michael Berry will accompany Felicia Moon to The Roundtable tonight. And he'll drive in reverse all the way from Montrose.

Farrago. 7:00.

Tim Fleck is bringing his files and notes.
We thought that the first rule of Houston Journo-List (aka Roundtable) was that participants were never to talk about Houston Journo-List.
Lips have gotten awfully loose of late. Good, we say!
It would be even more interesting if someone would post a list of those pols and journos who visit the secretive weekly gathering, so news consumers would be in a better position to judge how/if it affects the city's news and political narratives.
Posted by Kevin Whited @ 03/06/12 09:19 PM |
---
02 March 2012
Mayor ready to settle Ashby high rise lawsuit
KTRK-13 reports that Southampton residents are getting letters from Mayor Parker explaining that the city will settle with the developers of the Ashby high-rise, allowing the mixed use development to go forward:
In the letter, the mayor says unfortunately the city has no legal basis to stop developers from building the Ashby High Rise. The letter reads "I am accepting the advice of city legal counsel and recommending the settlement of the lawsuit."

The terms of the settlement are outlined in that letter. They include the city permitting a 21-story high rise. consisting of 228 residential units and about 10,000 square feet of restaurant space and four town homes.
It's a victory for the walkable/sustainable city folks!
Posted by Anne Linehan @ 03/02/12 06:25 PM |
---
01 March 2012
A single trip with transfers is counted as multiple boardings
Pssst, Channel 2: There's a difference between riders and boardings, although METRO is happy if you make the mistake.
Oh, and The Danger Train did not have six million of either last month.
Posted by Anne Linehan @ 03/01/12 07:35 PM |
---